Sid PowerfulVisions
MR
:: Expert In Dream Analysis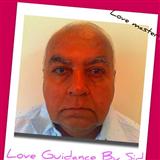 ---
3 Free Minutes + 50% Off Rest Of First Session With Sid PowerfulVisions
Limited Time & New Clients Only! (Limited To $50)
About Me
I can See's all, and combines with God given gift of clairvoyance. At the very young age, I had an Epiphany or a Premeditation you might say, see I was able to see things other people cannot see and i understood what i was seeing. And it was not until I was older and more comfortable having this gift then I realized why God put me on this earth, it was to use my gift to help others . Now I cherish my insights and love to use them to help others that need my services. I can see what is really going on and what's in store for you and others around you. I have helped many people and continue to do so in a very confidential manner. Some come to me just for advice and others just need some one to talk to. I am here to help you in any way that I can. A word to the wise,remember it takes at and I will do my best to help all people that are willing to except my gift and allow me to help them By Giving you my Intuitive guidance in , Love,Money,Business,Health.I am a non- judgmental reader and I can tell you about your Past Present Future ..And help you make life changing decisions!


Education
I have been working as a Psychic for years. My ability to read and see things to come, helped me become a Psychic.I have never been to any school to learn or get a degree my God gifted vision has helped me to understand and help people who need to look into future and needs spiritual help.

Qualifications
I have years of experience in helping others with all problems of life.I specialize in all problems.I have been following God path for years now.I have been blessed by our Creator with the ability to read the Tarot I also use crystals with my readings to better connect with Universal Life Force to guide you.
Latest 25 Of 6,005 Reviews
---
---
Accurate, sensitive and honest.
---
---
Stella8451
August 2, 2021
plain and very true with his words.
---
Gave me further updates on my readings...good to hear
---
So kind and warm to talk to. Puts you at ease. so helpful. clear.
---
---
Really had a positive confirmation....he remembered my situation from 2 months back which I didn't expect...hopinf for positive outcome
---
---
---
Always on point! Sid's insights and guidance has been of great help to me :)
---
---
---
He sounded very genuine! I will wait for things to unfold.
---
Thank you so much for your reassurance and I hope it happens soon. Amazing read. ??
---
Truly gifted, thank you ??
---
mind blowing, he know what my heart feel, what situation im in
---
Positive but we'll see if it comes true… ??
---
I missed chatting with you for some time but thank you for keeping up your healing work for me Sid.Thank you for everything and one thing i want to learn from you is to keep stability and not act like an emotional fool all the time and be patient. Thank you for being so empathetic to me every time and of course for the insights you give me whenever I need them. Love you so much xxxxxxxxx
---
Thank you dearest for all your hard work you have been doing for me. It makes me feel bad that you had to go through all you have been through with me and you've been so understanding to me and you feel everything i go through and you never judge when I feel small but you encourage me to move forward and keep going and thats why i am doing just fine. Hope I will have some courage to step up and take charge of my own life and stop feeling bad about the way others have treated me. Love you xxxxxxxx
---
He made a prediction that I would receive a proposal and when it would happen which seemed impossible at the time and he was right. It really happened!
---
Was spot on with both my ex s and very Intuitive. Will definitely be back. Can't wait to see what the future
---
very straight forward and to the point. Putting my mind at ease!
---
---
Unbelievably good. clear. strong
---