Sid PowerfulVisions
MR
:: Expert In Palm Reading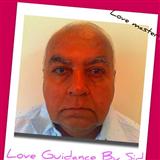 ---
3 Free Minutes + 50% Off Rest Of First Session With Sid PowerfulVisions
Limited Time & New Clients Only! (Limited To $50)
About Me
I can See's all, and combines with God given gift of clairvoyance. At the very young age, I had an Epiphany or a Premeditation you might say, see I was able to see things other people cannot see and i understood what i was seeing. And it was not until I was older and more comfortable having this gift then I realized why God put me on this earth, it was to use my gift to help others . Now I cherish my insights and love to use them to help others that need my services. I can see what is really going on and what's in store for you and others around you. I have helped many people and continue to do so in a very confidential manner. Some come to me just for advice and others just need some one to talk to. I am here to help you in any way that I can. A word to the wise,remember it takes at and I will do my best to help all people that are willing to except my gift and allow me to help them By Giving you my Intuitive guidance in , Love,Money,Business,Health.I am a non- judgmental reader and I can tell you about your Past Present Future ..And help you make life changing decisions!


Education
I have been working as a Psychic for years. My ability to read and see things to come, helped me become a Psychic.I have never been to any school to learn or get a degree my God gifted vision has helped me to understand and help people who need to look into future and needs spiritual help.

Qualifications
I have years of experience in helping others with all problems of life.I specialize in all problems.I have been following God path for years now.I have been blessed by our Creator with the ability to read the Tarot .I also use crystals with my readings to better connect with Universal Life Force to guide you.
Latest 25 Of 5,102 Reviews
---
Hey Sid, you're an outstanding psychic and you've your own unique style of dealing with clients. You always give your best without overdoing and giving false hopes. But, you're so confident and if you can't do something, you say it and you know your strengths and limits. I wish I could steal those qualities lol...I still believe its a journey for me and meeting you was not a co-incidence. I always had questions if we should just believe what we can see and hear but you made me believe in energies and spirituality. Stay blessed,love you xoxoxoxo
---
Hey dear, you're very good and very close to my heart. I don't know why..i just feel you're a very good soul and you connect with me. As you know I feel very hard to connect with people and I get bored and disconnected so easily whereas he connects emotionally with everyone lol..so opposite! Anyways, I only connect to people in a deeper level and you get to see my craziness and my rawness. And, I am so sorry I was upset last time, its just me..thats how I ruin relationships and frensips but I know u don't judge me..i try to be nice but my sickness comes out bcoz of everything going on.love u..chat soon xxxxxxx
---
Sorry sid for the late review again. I am feeling better now and I felt better after releasing my burdens to you. I haven't seen anything about him but its only been 1 day lol....If anyone asks me for a psychic, I would 100% recommend you because you're the true psychic and a very balanced one for unbalanced creatures like me lol...love u and hope u don't hate me for who I am. Chat soon ok. Take care and have fun as you always say to me :)
---
Hi Sid, I am finally going to see a place tomorrow and hopefully I will move out soon. And I want to take risks and make money as I am not saving anything because I don't care about anything and I don't take my life seriously. Anyways, you know me and you know what I am talking about. Thank you for understanding me and advising me . I trust you, respect you and I will listen to you as you're my master but also you're my close friend. Stay safe. Chat soonxxxxxxxxxx
---
Hello Sid, sorry for this late review. I couldn't find my laptop as my room was a mess like my life. Anyways, I am so sorry for throwing tantrums and getting upset. You're not just my psychic but you're much more than that. So, I do want you to know everything I go through and I wish I could be there for you to support you as well when you need someone. But, I am not powerful and great as you but you can take me as a friend who at least is not fake ok..love you xxxxxxx
---
Amazing, understanding, hope he is right
---
Sid was very accurate in my reading with him. I was very surprised and impressed that he saw and described in detail an event I had not shared anywhere. He can see. Please try Sid and keep an open mind.
---
---
---
---
---
---
---
Predictions have come to pass in the past. Hope new predictions do too!!
---
spot on! very surprised at his accuracy.. worth a try.
---
excellent as alwaus, truthful
---
hes very good and fast too thank you
---
Always always amazing u hope predictions come to pass
---
PREDICTION CAME TO PASS!!!
---
---
Honest kind and to the point!
---
---
---
---
He's accurate ad always!!
---