Robert Ambrose
LMHC - MS, NCC
:: Expert In Marriage Counseling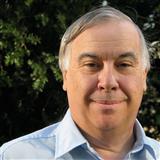 ---
3 Free Minutes + 50% Off Rest Of First Session With Robert Ambrose
Limited Time & New Clients Only! (Limited To $50)
About Me
Combine my 35 years of professional counseling experience with my 30 year happy marriage and I know how to help you with problems that have arisen in your marriage. Marriages are based on trust, loyalty, compromise and so many little day to day things that require shared attention.
If your marriage needs a boost or you need to find a way to get back on track I can help. If your marriage has gotten to a point that you feel there is no return, I can help you with that as well.
I am ready to hear you in a non-threatening way. Allow me to help you sort things out. And with no psychobabble.

Education
BA - PSYCHOLOGY, MS - REHABILITATION COUNSELING LICENSED MENTAL HEALTH COUNSELOR (LMHC) CERTIFIED REHABILITATION COUNSELOR (CRC) NATIONAL CERTIFIED COUNSELOR (NCC)
Qualifications






Over
35 years of counseling and therapy experience and practice.
Licensed Mental Health Counselor
(LMHC)



Certified
Rehabilitation Counselor (CRC)


National Certified
Counselor (NCC)
My
training has included a focus on client-centered therapy and
counseling, mental health disorders, and disability adjustment. My
extensive clinical experience includes work with adults, families,
adolescents, and children.
Practice in
the Treatment of
Depression
Anxiety
Stress
P.T.S.D.
Relationship issues
General feeling of
foreboding

Uncertainty
Sadness
Worry
Fear
Grief
Changes in mood
Career difficulties
Career guidance
Crisis
Loneliness
Lack of
assertiveness

Issues of
self-esteem

Family problems
Marriage
difficulties

Concerns about
children

Parenting problems
and more.

With 16 years as Executive
Director of a Community Mental Health Center and the 11 years prior to
that as Director of Psychiatric Day Treatment I have encountered and
treated all forms of emotional and mental disorders.






Latest 25 Of 275 Reviews
---
A caring professional and a very good man. Do stop by and use these fine services! Thank you so much!
---
Stellar talent and a totally dedicated professional too. Thank you so much!
---
A skilled professional and an even better listener. Thank you so much!
---
I would recommend Robert to anyone. He's a gifted therapist.
---
---
Very professional and thoughtful too. An excellent person to visit here at this website. Thank you so much!
---
---
Anonymous
January 4, 2019
Kind, respectful, and insightful. Great session.
---
Friendly. Helpful. Insightful. Thank you so much!
---
genebean83
December 10, 2018
good advice
---
Intelligent. Insightful. Friendly. Highly helpful. Very professional. Thank you so much!
---
---
Anonymous
September 14, 2018
Excellent and genuinely caring. A very well-thought out response.
---
Seasoned and wise professional. Thank you so much!
---
Quick, to the point, and very helpful.
---
Very empathetic and understanding.
---
Anonymous
January 3, 2018
ngfz
---
Anonymous
November 24, 2017
uh huh
---
leopzdas
November 9, 2017
great advice
---
Stellar thinker and advisor. Thank you so much!
---
Thoughtful consideration was given to each and every question. Thank you so much!
---
---
Skilled adviser. Also, helpful in guiding the conversation to a completely satisfactory and positive conclusion. Thank you so much!
---
Very passionate about giving the best services possible to each and every client. Thank you so much!
---
One of the most skillful professionals on this website and a compliment to the benefits that the internet can bring in serving others via the "helping professions." Good person to contact! Way to go!
---