Ive Zwyssig
Psychologist/ Psychoanalyst Counsellor
:: Expert In Depression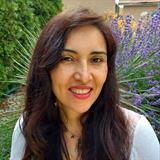 ---
3 Free Minutes + 50% Off Rest Of First Session With Ive Zwyssig
Limited Time & New Clients Only! (Limited To $50)
About Me
I approach depression treatment in a gentle and compassionate way. It is important to explore the interpretations that your mind is giving to the circumstances around you. Let's go to a negative space to a neutral one, where you can recover and feel relief.

Education
I have a Master's Degree in Clinical Psychology and extensive Psychoanalytical Training.
Registered Member at the College of Psychology in Queretaro, Mexico
Child Psychology Diploma and Counsellor I worked at the: "Community Child Abuse Council "in Ontario, Canada and at the present British Columbia Schizophrenia Society.
Member of The International Women's Leadership Association

Qualifications
Over 20 years of experience in individual counseling.
Over five years of working in a hospital environment.
Provide Group Therapy and Family Support at the Mood Disorder Clinic at the Penticton General Hospital, Psychiatric Unit.
Individual Support for Families with a loved one with Mental Illness
Extensive training in the treatment of depression, stress, post-traumatic stress disorders and other forms of anxiety.
More than 15 years of experience in individual therapy with people with drug abuse problems, anorexia and bulimia, depression, and anxiety.

Latest 10 Of 11 Reviews
---
---
She is helpful and very thoughtful in her responses....
---
Iveth is a GOD SEND! She is amazing!!! Thank you!
---
I am glad I got a chance to connect with Iveth. I feel our phone session was helpful and puts me into direct acknowledgement of what I carrie with in myself...
---
Our conversation invoked much passion in me and put me in direct acknowledgement of what I struggle with... Much to cop to and acknowledge as I sit in contemplation and meditation...
---
This was a very helpful and effective session.... We got to the root of the matter very quickly! Iveth is a very honest woman and met me on my level effortlessly in my opinion... I felt very inclined to be honest and I felt very well received by her. Much thanks for our time together on the phone.
---
This counselor is outstanding and very, very helpful. She helped me so much so quickly. In addition to being an extremely skilled and knowledgeable professional, Yvette is also warm and friendly. I highly recommend you contact her now!
---
---
she is gods gift to thersapy
---
protienboi
April 24, 2006
she is so strong and soft at thr same time the ying and the yang absoluunrhensavbrreeeeeeeeeeeeeeeeeeeeeeeeeeeeeeeeeeeeeeeeeeeeeeeeeeeeeeeeeerrrrrrrrrrrrrrrrrrrrrrrrrrrrrrrrrrrrrrrrrrrrrrrrrrrrrrrrrrrrrrrrrrrrrrrrrrrrrrrrrqqrqrrrrrrrrrrqqrrrrrrrrrrrrrrrrrrrrrrrrrrrrrrrrrrrrrrrrrrrrrrrrrrrrrrrrrrrrrrrrrrrrrrrrrrrrrrrrrrrrrrrrrrrrrrrrrrrrrrrrrrrrrrrrrrrrrrrrrrrrrrrrrrrrrrrrrrrrrrrrrrrrrrrrrrrrrrrrrrrrrrrrrrrrrrrrrrrrrrrrrrrrrrrkkhttttttttttttttttttttteekeyjjjjjjjjjjjjjjjjjjjjjjjjjjjjjjjjjjjjjjjjjjjjjjjjjjjjjjjjjjjjjjjjjjjjjjl,ytlly
---