Alexandra.
Expert In Occult ---
3 Free Minutes + 50% Off Rest Of First Session With Alexandra.
Limited Time & New Clients Only! (Limited To $50)
About Me

Available for LIVE sessions, no e mail readings.


Education

Diploma Individual & Relationships Counselling
Cert. Usui Reiki Master 7th in lineage to Dr. Usui
Cert. Advanced ThetaHealing® Teacher
Cert. Basic ThetaHealing® Teacher
Cert. ThetaHealing® Manifesting and Abundance Teacher
Cert. ThetaHealing® Rainbow Children Instructor
Cert. Advanced Theta Healer®

Cert. Basic ThetaHealing® healer
Tarot Teacher

Tarot & Healing Author
Tarot Deck Designer
Manifesting, L.O.A. Guide and mentor

Qualifications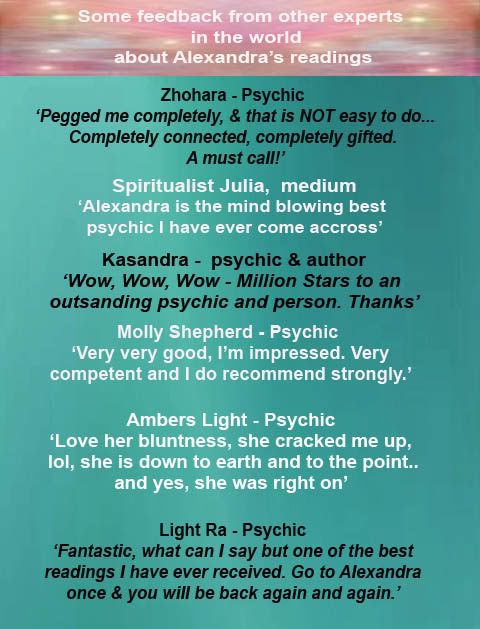 I have spent my lifetime on a spiritual path and giving sessions helping clients find their hidden truth professionally for many years. Sometimes we just need a guide through the occult to help us gain clarity. I help guide people through what they are picking up on different levels, be they emotional, mental, spiritual or astral planes. I have worked on the internet giving spiritual advice as well as in person and gathered this experience to share with you.

God bless you and yours, Alexandra P. Brown
Latest 25 Of 8,922 Reviews
---
Spot on and excellent advice!!
---
Thank you so much for the much needed clarity and getting my head out of this forest I've made for myself.
---
---
She is great and really does not sugarcoat! Love her to bits and she has been my advisor for quite some time now.
---
Vivienne Loh
June 22, 2021
Ms Alexandra has never shied from telling it like it is, so i really appreciate all the times she's had to wake me up to the truth of the situation. Her vision is always delivered with humour, sometimes to the point where I laugh and I am sure she's chuckling along as well. Thank you for modelling wisdom, humour and clarity for me.
---
Nightalwayswins
June 21, 2021
For some reason, in my gut, I was drawn to you as the right person to ask about this situation and you have been eerily correct! I am not even saying/doing anything else until I speak to you again!
---
very kind and insightful as always
---
sweet, caring, fast typer and super positive. made my morning. will definitely come back even to say hi.
---
I have been chatting with Alexandra for about a year now. She has had a lot of patience with me and especially when I have made things worse for myself by not following her advice. Her guidance has definitely provided me clarity when I've been in a dark place. I look forward to what has been bothering me for so long hopefully turning around. Thank you Alexandra :-)
---
---
WOW such a great reading. First she had me in stitches I love her sense humor, her honesty. She was spot on about my POI. I will be coming back!
---
Amazing!! Can't wait for predictions to come to pass
---
---
---
---
---
Vivienne Loh
June 5, 2021
Another insightful reading and lots of happy things to anticipate. I look over the 3 years I have been reading with Ms Alexandra, and I can see a steady growth , greater love, abundance, because Ms Alexandra is able to create that awareness, plus inspire with her vision. So grateful, much love.
---
---
Alexandra is my favourite person to speak with. Extremely intuitive and gives wonderful advice. She has never been wrong!
---
Vivienne Loh
May 31, 2021
Insightful and honest. Always trust Ms Alexandra's vision and cracks me up too.
---
she is always nice and jovial and always makes a lot of sense
---
Nightalwayswins
May 29, 2021
I was skeptical but you were right! Hope to speak again soon.
---
Best reader hands down she read tf outta the situation
---
Alexandra is the best!! She is incredibly insightful and delivers her message with kindness and humour. She has yet to ever be wrong...she just knows everything. A trusted advisor...I feel very fortunate to have her in my life.
---
---