tarot
Expert In Numerology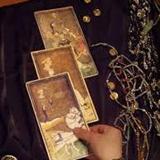 ---
3 Free Minutes + 50% Off Rest Of First Session With tarot
Limited Time & New Clients Only! (Limited To $50)
About Me
I am an expert at love and relationships but I can also help you in other areas of your life too. If you have questions about your significant other or questions about someone that you would like to start a relationship with then I can answer all your questions. I can tell you if this person is right for you and if this person is your soulmate. All of my knowledge and abilities are delivered to me from God. God gives me the power and energies needed to help people in all areas of their life and I can help you too. Besides relationships I have also helped many people around the world with their careers, fight depression, and give them advice that will set them on the right path to find happiness.
I am a third generation psychic in my family and have been blessed to be around my family members that helped me control and tune my psychic abilities to help people in their life. Me and my family only use our psychic abilities to help people, we never use our psychic abilities for evil or to cause harm. For the past 20 years I have been helping people with their problems and I can help you too.
If you are looking for honest answers to all your questions, I can help. I do not use cards or other tools to help me with my psychic abilities. I only use God's gifts to answer people's questions. With God's help I can answer all your questions and give advice on what steps you can take to achieve your goals and to find happiness. Please remember that I will always give you the truth. I will never hide hurtful answers to give you false hope. Giving you a little bad news today can prevent a lot of pain in the future. So if you have relationship or career questions or you have been suffering from depression lately I am here to help! I can help you with all areas of your life, no matter how big or small the problem might be.


Education
Gifted with clairvoyance & clairsentience
Qualifications
professional Psychic Intuitive and Empath
Matters of the Heart
Tarot Card Reader
Relationship Guidance
Empathy
positive prayers
visualization techniques
spiritual consulting
Blocks are created by negative input and environments

Latest 25 Of 4,711 Reviews
---
Best psychic. In every way.
---
Thanks predictions came true.
---
---
---
This psychic has course corrected my life romantically, financially and professionally. She predicted events months in advance which I prepared for. Because of Tarot, I experienced the most amazing/magical moment of my entire life. She genuinely cares, dishonest and is incredibly psychic.
---
Amazing reading! Great insights on POI.
---
---
Takes a while to respond but worth it
---
Beautiful person always have a good reading with her very positive very strong energy always on time didn't even really have to tell her anything she just start talking beautiful reading thank you beautiful lady
---
---
Knew so much of what was going on
---
Thanks for the talk. I don't even know if this app is even real. I've been told by multiple readers to be patient and the guy cares about me but today I chose to move on and I just wanted a conversation and that's why I was on here. Who knows anymore. Thanks
---
Best, most accurate psychic on Kasamba
---
---
LOVE THIS AMAZING PSYCHIC
---
---
---
Very honest and friendly. Took my matters to the heart and gave me insight and advice
---
---
Thank you ran out of funds
---
It was an excellent session and Tarot gave me some wonderful advice regarding both a difficult work and family situation.
---
She was good, she picked up issue with me and advised although I got a little confused at times
---
Quick answers and provides a lot of detail
---
Good reading thanks so much
---
Great love her she is the best
---