Dr Madeeha Nazar
Expert In Health & Medicine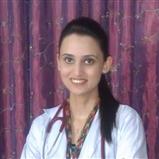 ---
3 Free Minutes + 50% Off Rest Of First Session With Dr Madeeha Nazar
Limited Time & New Clients Only! (Limited To $50)
About Me

Untitled-1
When your daily routine is disturbed by some illness, there is an immediate need to consult a doctor who can not only provide with the correct diagnosis BUT can also answer your queries ,relieve you fears , guide you about the required workup plan , possible treatment and time it will take till you get back to your daily life. I have been TRAINED and have the EXPERIENCE to provide you with all these aspects of health care. Through my questioning I extract as much information as possible that can help me diagnose your ailment .
.I try my best to explain the cause of your illness, in simple understandable language , along with answers to all the queries and misconceptions that you might be having about your illness.
I can also help you decide that when a visit to a doctor's clinic should be urgent AND if you need to have another doctor's consultation to answer concerns regarding your symptoms, don't hesitate to discuss with me.
I can diagnose as well as rule out chances of having some SERIOUS CONDITION like Cancer or HIV with a set of few relevant questions.
Have searched the net for your symptoms and now WORRIED that you might be having some serious disease, DISCUSS WITH ME ,I'll clarify all your doubts and will put your mind at ease.
Already have number of INVESTIGATIONS done and need to understand why they were done and what is their importance in diagnosing and treating your illness , contact me.
Started on a NEW DRUG , not knowing its side effects , interactions with other drugs or need dose adjustment , feel free to contact me.
If you have complaints or questions related to your


Talk to me and I will give you the precise diagnosis, based on details you provide and questions I ask.
CONTACT ME FOR CONSULTATION IN A RELAXED AND STRESS FREE
ENVIRONMENT….


Education

MBBS, FCPS , MRCP (1,2)

Qualifications

After finishing my studies at one of leading medical universities of my country ,I gained experience as house physician from MAYO HOSPITAL, a distinguished hospital ,affiliated with KING EDWARD MEDICAL COLLEGE.
I then completed my FELLOWSHIP RESIDENCY from a highly esteemed institute of my country and now have the vast experience to deal with all kinds of problems related to a person's health , regardless of age and ethnic background.



Latest 25 Of 252 Reviews
---
Very helpful and friendly. Recommended.
---
Girlygirl77
August 28, 2016
good sensible doctor with helpful advice.
---
Trinialvara
June 24, 2016
Awesome work
---
Dr Madeeha gave an excellent response
---
---
My second time contacting Dr. Nazar. Again she was very helpful with some new ideas.
---
Outstanding consultation , thank you
---
concerned
January 25, 2015
highly recomend
---
Regretful1
December 28, 2014
She was great. Seemed very knowledgeable.
---
Anonymous
October 30, 2014
lousy
---
enriquegm82
October 25, 2014
Excellent service provided..! Highly recommended..!
---
---
cakelady
September 19, 2013
very quick, kind response. thank you!
---
Anonymous
September 17, 2013
Great
---
---
great help. Thank you so much
---
---
Good prediagnosis consultation...
---
---
Extremely pleased. She was very knowledgeable, and eased my concerns.
---
---
---
ultrarunner46
April 23, 2013
great!!!!!!
---
---
---