Candace Johnson
LMHC
:: Expert In Relationship Issues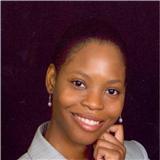 ---
3 Free Minutes + 50% Off Rest Of First Session With Candace Johnson
Limited Time & New Clients Only! (Limited To $50)
About Me
I am a licensed mental health counselor and certified life coach. Services are holistic and client centered. Approaches used are person-centered, cognitive behavioral therapy, solution-focused, and family systems. Specialties include assertiveness training, managing anger and relaxation therapy. I show individuals and couples how to transmit rage into relief with a simple approach. Begin to heal naturally from a broken relationship using a new and different focus.


Education
Master of Science, Mental Health Counseling, St. Thomas University, Bachelor of Psychology, Florida A&M University, Certified Crisis Counselor, 211 United Way, Certified Information & Referral Specialist, (AIRS), Certified Life Coach Practitioner, Certified Coaches Federation (CCF), Inc.
Qualifications
With over 10 years of experience in crisis counseling, self and social psychology, I work with clients from various backgrounds and provides treatment options for clinical mental health and substance abuse issues. I addressed matters related to parenting, couple and martial conflict, and addiction. I developed a clinical staff evaluation for client therapeutic progress and treatment. The tool consists of incentives, benefits, consequences and rewards for client behavior responses. I worked for a national social service organization nominated in "Best practices."
Licensed Mental Health Counselor conducts individual, couple and family therapy. Counseling professional assists many individuals nation-wide with relationship concerns, provide creative, easy solutions, follow-up on common and unique cases. I provide face-to-face psychotherapy to clients.


free hit counters
Latest 25 Of 77 Reviews
---
Thanks so much for this session, Candace! Your suggestions on the establishment of rules and boundaries will be very helpful, I'm sure! I appreciate the time you took to evaluate my situation and provide ideas on how to handle it in a professional, assertive manner! I look forward to hearing from you again later on! Have a GREAT day, and Happy Easter!! <3 :)
---
Candace Johnson is a skilled adviser who is sympathetic and skilled at getting to the root of any concern. I can say with complete confidence that Candace is 100% worthy of your call and time. A must stop at Presto Experts. Thank you so much!
---
great talk and very encouraging
---
Candace Johnson was highly professional in providing both insight and compassion. This was an outstanding session all around. Thank you so much!
---
A solid professional and quite compassionate. Thank you!
---
---
socialstudent
December 29, 2012
Very helpful discussion :)
---
Adam Pearson
November 28, 2012
She is very resourceful, excellent communication skills, gifted, and is exactly what a client needing support and feedback would want.
---
Extremely caring and compassionate. Great listener. I appreciate all.
---
---
---
She always has her unique ideas. I enjoy getting her advice.
---
Sincere and wonderful person.
---
---
I like working with her. She has a strong personality that I lack so I really learn from her.
---
MoreInterviewsNow
June 10, 2012
Patience and helps you get to the right answer. TY
---
Really nice professional and kindly in her responses. Highly recommended too. Thank you so much, Candace.
---
Candace talked over a matter of concern with compassion and direct observations of a situation I need insights on. She was most helpful and full of practical wisdom.
---
Candace made a lot of sense with her insights and honest advice. I will definately use her wisdom. Thank you, Candace!
---
I was crying but she still listened to me and explained my concerns.
---
blueizegirl
February 28, 2012
Candace is a great person to talk to and is real with you... no false promises or sugary sweet antedotes. Her directness has helped me deal with a situation I had been struggling with for a while now. She reminded me that I am stronger than I think and that is AWESOME!!! Thanks Candace :D
---
---
Very comforting and encouraging.
---
---
Thank you :-) Always on time gives quality work.
---